Each one of us has a life story. A unique one. From the day we took our first breaths to date. Good memories, bad memories. Exciting memories, apathetic memories. Joyful memories, sad memories. Together they make up our own unique and special life stories.

The best life stories are written by the individual themselves, not told by other parties.

Are you brave enough to write down your entire life story and be at peace with every aspect of it?

Will you be able to smile even when you write down the bad, sad, and apathetic parts of your life story?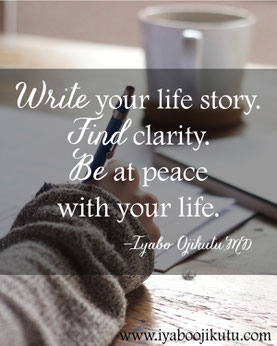 How much of your life can you recall by yourself without the help of others?

Do you have the courage to complete the entire process of penning down every thought about your life that comes to mind as you write?
As you have probably read in some of my earlier blog posts, the writing of my first book came automatically to me. It started with my life story. I penned down key parts of my entire story from early childhood to the time of my dad's passing. As I did this, I felt a freedom and release within me. I was able to really connect with my own spirit and with God, and I felt peace as I wrote and when I read over my story. All the parts connected better, lessons popped out, and I was inspired to keep writing.

As I wrote my second book, I was then further inspired to use parts of my life story as connecting aspects and examples to that topic also.

Writing our own individual life stories is a big part of our self-growth and self-development. The process moves us toward achieving our dreams, as we are able to grasp fully who we really are, as we connect with our own selves all over again.
WRITE down your life story.
FIND clarity.
BE at peace with your life.
Start today. Complete your story to date, and then continue this practice by journaling on a daily basis.

You will be transformed!