Can they? Can men and women really just be friends? 
My answer is no, I really don't think so.
I do not think they can be friends without one of them, or quite often both parties, developing a romantic intention or interest at some point.
A man and a woman meeting alone frequently on a friendly basis for lunches, dinners, walks, and/or leisure activities will, in my opinion, develop romantic feelings for each other eventually. Sometimes this happens quickly, usually in one party first, then often the other starts to develop the same interest—I believe it's inevitable.
Even if it starts off as a business relationship, and the meetings/encounters are usually just the two of them with no one else involved—this creates fertile ground for feelings to develop.
I've had this discussion with quite a few people in the past, and opinions are split, as you would imagine. Some, like me, absolutely believe a man and woman cannot just be friends. Some believe they can be. The latter group are usually the ones who have engaged or are engaging in this form of friendship/relationship setup, and I truly believe their answers are ones of convenience to justify their desires.
During some recent discussions, some have said, "Well, I wasn't interested. He or she may have been, but I wasn't, so it doesn't matter," or statements such as, "I definitely knew he or she was interested, but I knew I could never date him or her." So there you go—there is usually interest on one side, or interest developing on one side, and the other party is fully aware.
The question is, if they spend enough time meeting alone as "friends" who enjoy and savor each other's company, could the other party eventually develop feelings? Yes! It happens, it has happened, and it will keep happening!
So I believe the people who answer that men and women can just be friends without ever developing a romantic interest in each other are not giving honest answers. I believe it is an answer of convenience.
At minimum, one typically has an ulterior motive, or at least, the motive starts to build up the more time they spend with each other and share in each other's lives.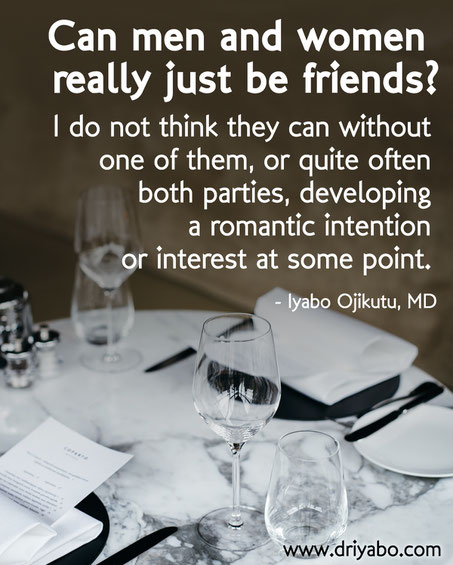 I'm not married. I've been divorced for nine years. I do not have male friends I just hang out with on a friendly basis. That has never worked for me—never. Even if I have no interest whatsoever, the guy hits on me, so if I'm not interested, I sever that relationship, because it gets weird. Even business partners whom I've had to meet with on a regular basis to discuss dealings have hit on me, so I then quickly make it clear we must keep it professional, as I have no romantic intentions. And if they don't respect this, I sever those too or seek out someone else in the firm.
Of course, I've been in the dating field since my divorce, and have also taken prolonged times off without dating at all, by choice.
I'm currently in a relationship, and I cannot and will not engage in one-on-one physical meetings, or even cyberspace communications, with other guys on a regular basis. Of course, I may have to have business relationships with men, but no secret or frequent alone meetings.
So I don't go out looking for men to have friendships with…because why would I? Why should I? I'll seek out female friendships. I have many female friends. In my opinion, a male friend never remains as just a male friend. Feelings will inevitably grow in at least one of the parties.
So if you're both single, then that's absolutely fine, of course. No harm done. If you both eventually develop mutual feelings for each other that grow from an initial friendship, then hey, you're both lucky. The best romantic relationships start off first as true friendships.
The stickiness comes when one of the parties is married, engaged, or even in a committed dating relationship and then feels he or she can handle being close friends with someone of the opposite sex.
No. No…no…no…no. This is a big no.
There is something called boundaries. Something called you know what you're doing before you head into it. If you intentionally get romantically involved with someone else while you are in one of the committed unions listed above, then you know fully well that's cheating.
However, if you believe in your mind you can go out frequently with someone of the opposite sex for lunch, dinner dates, leisure dates without your spouse, or girlfriend or boyfriend, and you believe this is just a platonic friendship…I believe this is crossing boundaries on many levels. Feelings will likely eventually develop in one of you, so this is crossing the line and really disrespecting your committed relationship.
If you've been friends before the other party starts dating someone exclusively, or before they get married, I believe it is time to move on and look for other single friends. It is dangerous to tempt fate or place yourself in situations that could lead to the demise of another person's union.
This could be you one day at the receiving end of this type of mess.
And I'd surmise that 100 percent of the time, the other innocent party in this—the person who doesn't know his or her "committed" partner has a frequent friend of the opposite sex—is never, ever cool with this kind of ongoing friendship when they find out about it.
So if you weren't both thinking straight before, as soon as you are aware the other partner is not happy with your ongoing friendship, you should sever that friendship. Respect, boundaries, morals, putting others in your shoes—that's the reason you should sever that friendship.
The single party should move on and look for new single friends! It is common sense. Pretending you can just be friends and then crossing the line one day and creating hurt for someone else is too big a price.
I know this is a controversial topic. I know I'll get major differences in opinion. I know some will argue out their viewpoints. That's OK. We can have mature, healthy conversations. Please share your opinions on the blog. I'd like to hear from you.
But I stick to my point—men and women cannot just be friends! If you're both single and noncommitted, go on, enjoy your friendship. If one or both of you is/are married, engaged, or dating exclusively, sever that other relationship if you truly care about your partner—otherwise you may soon lose your marriage, union, or dating prospect.
May we all be permanently happy by placing other people in our shoes and living lives with healthy common-sense boundaries.