---
By ​Detola. O
---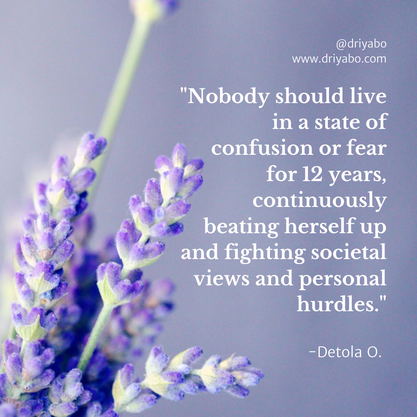 I gave women the opportunity to win tickets to my conference by entering a Giveaway contest. 
They had to write an essay about the reasons they'd like to attend. I read some beautiful write-ups and below is one of them. 
'In Adversity, we often find our Voice and Inner Strength if we do not cower'. This statement defines my attitude to obstacles. 
At 22, I got married with zero knowledge of self nor an understanding of what marriage entails, to a person that I considered extremely smart and stern enough to fix me. You see, to me, marriage was about getting fixed. Love to me meant meanness and toughness. I did not grow up around happy couples so I associated marriage with long-suffering and sadness. I imagined there was a deep seated joy in that sadness. Looking back, I realize how damaged I really was.
Young, empty, naïve, but for some reason, it always seemed like I knew what I was doing. So, I decided to get married as an undergraduate because I had dropped out of university earlier and restarted my undergraduate degree. There was a lot that I wanted to become but many seemed unreachable due to lack of clarity on steps I needed to take to achieve my goals.  Several broken dreams and feeling of inadequacy made marriage a 'win', it was a short break in reality, making me feel I was succeeding at something.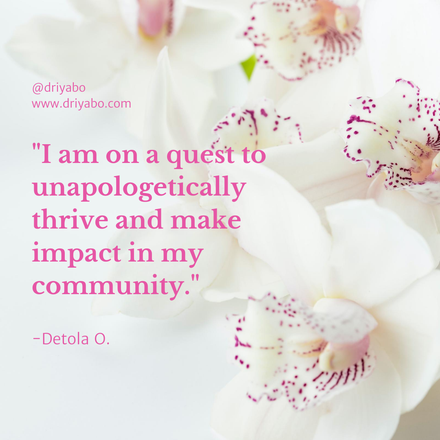 From day 1, it was evident that I had complicated an already complex story, I was married to a man who thought nothing of me, would yell at no provocation, mock and taunt me and call me names ranging from 'idiot to low IQ'. I was a disappointment. I cried myself to sleep daily but I still felt satisfied to be married. Empathy and Kindness were simply lacking and this broke me.
It took 9 years to reclaim my power and returned to school to get an MBA, then get a great job.  Much older, wiser but stuck with old choices. I am focusing more on damaging beliefs and patterns that have kept me in a relationship rot for years. People say, snap out of it, even I think so, but doing isn't just by wishing. Nobody should live in a state of confusion or fear for 12 years, continuously beating herself up and fighting societal views and personal hurdles. 
So, why should I be picked for the women without guilt virtual conference?  I am on a quest to unapologetically thrive and make impact in my community. I have come a long way, conquering fear and limiting beliefs. I battle past choices and wonder what could have been and in my quest for growth, I find myself asking more questions because I realized one of the biggest mistakes was ignoring counsel and not asking the right questions.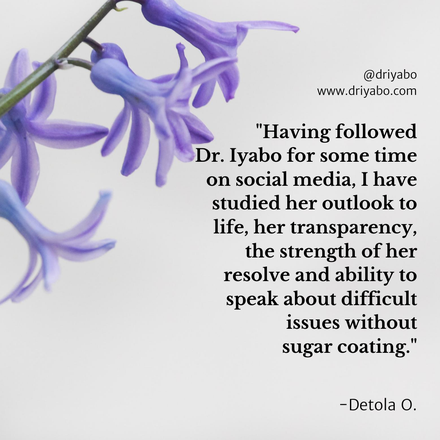 Having followed Dr. Iyabo for some time on social media, I have studied her outlook to life, her transparency, the strength of her resolve and ability to speak about difficult issues without sugar coating. This ability is distinctive and it will be a great honor to learn from such a strong and accomplished woman and her friends. Her daily nuggets of wisdom coupled by her faith and mission of living a life of purpose and fulfillment daily draw me to her and I have no doubt that this opportunity will be one to learn and receive mentorship from a wise and strong woman who has lived through adversity and conquered. It will be a great honor to be part of this event and receive the 1 hour coaching session. 
Most importantly, I care about making impact, my life story is that of grace to re-invent and I hope to inspire others to forge on despite failures and never to see temporary wins in exchange for a lifetime of fulfillment. 
                                                                                                                                         By Detola O.
May we all be permanently happy, and may our pains create a passage into our own purpose-driven life.
See you on the Blog next week with another winning essay.
Lots of love,
Dr. Iyabo