---
By Yinka Ojo @yinqooz
---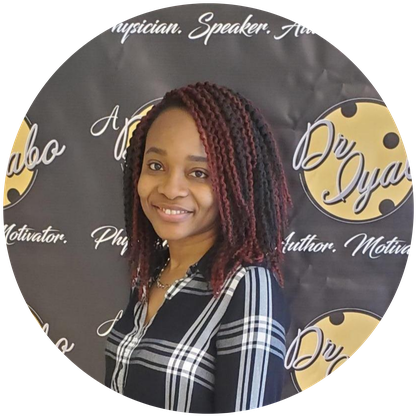 I gave women the opportunity to win tickets to my conference by entering a Giveaway contest. 
They had to write an essay about the reasons they'd like to attend. I read some beautiful write-ups and below is one of them. 
About a year ago, I decided to break out of my comfort zone right after my birthday. The way I lived my life up until that moment was different from what I expected. I realized I was not making the kind of impact I wanted; instead, I was locked up in a shell, embracing whatever life brought my way. I became so comfortable where I was that the thought of making changes brought on anxiety, fear, and doubt. It almost felt impossible to crack the shell without guilt, anger, and frustration. These feelings resulted in a lack of confidence and missed opportunities. As someone who enjoyed checking on people and lighting up their faces with a smile, I suddenly wanted to be in my 'safe' space. Something was just not right! After thorough self-reflection and evaluation, I knew I had to take bold steps to switch things around. So, I set out to engage in activities of interest, which include traveling and attending conferences.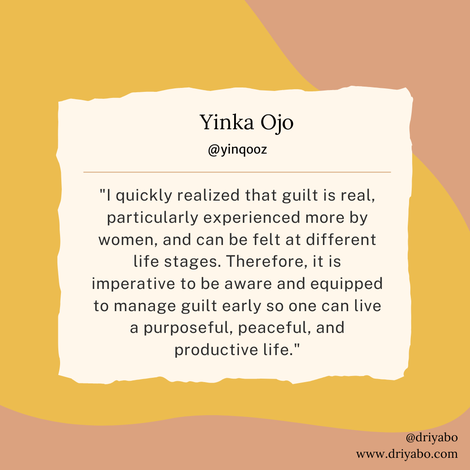 Shortly after, a women's conference I had been interested in for a while was coming up. Due to travel constraints, I had not attended the meeting in the past, but I now lived in Atlanta, so I made plans to attend. While I enjoyed every bit of the conference, meeting people was challenging. I was overwhelmed by the crowd, and everyone seemed to know each other. I thought of doing something different. I took note of the people I would love to meet (names or faces) and looked them up on social media.
Dr. Iyabo was one of the women. She radiated elegance, simplicity, and calmness; I felt an instant connection with her. I connected with her on Instagram, and then, I looked at recent posts on her page. There was a flyer for the first Women Without Guilt conference staring at me. It felt so unreal that another women's conference was coming up in less than two months, and it was here in Atlanta! The name of the conference resonated well with me. I knew I had to be there.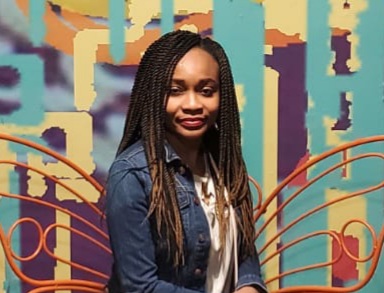 The first Women Without Guilt conference was beyond my expectation. The event was well organized and very informative. It was an empowering event laced with a warm reception. I was happy to be with supportive, transparent, and driven people in an atmosphere that felt safe and intimate. I quickly realized that guilt is real, particularly experienced more by women, and can be felt at different life stages. Therefore, it is imperative to be aware and equipped to manage guilt early so one can live a purposeful, peaceful, and productive life. All the panelists did a great job sharing their journey and providing great words of advice and encouragement; I liked the diversity, and I learned from every one of them. All questions were answered in a practical manner and a non-judgmental tone. Many people in the audience also shared their wealth of knowledge and provided valuable information.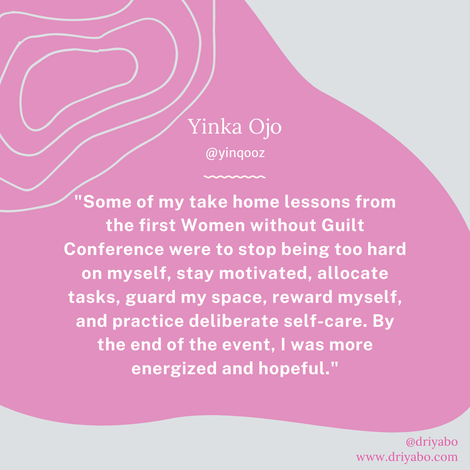 Some of my take-home lessons were to stop being too hard on myself, stay motivated, allocate tasks, guard my space, reward myself, and practice deliberate self-care. By the end of the event, I was more energized and hopeful. Given all the experiences I had and the great connections I made at the first Women Without Guilt conference, I do not doubt that the second conference will be excellent. I have learned a lot from Dr. Iyabo and Dr. Caudle through their Instagram posts for about a year now.
I look forward to discovering more by listening to all the speakers and interacting with everyone. I am delighted to glean ideas and connect with people. I believe the timing is right, and the event will be loaded with information and opportunities for growth and discovery. The countdown to the second Women Without Guilt conference has begun, and I am thrilled to be a part of the fantastic experience.
                                                                                                                                                     By Yinka Ojo @yinqooz
May we all be permanently happy, and may our pains create a passage into our own purpose-driven life.
See you on the Blog next week with another contest winner.
Lots of love,
Dr. Iyabo