When you find yourself thinking of visiting a city the third time, you know it made a lasting impact on you. 
Barcelona, Spain, our Thanksgiving holiday destination November 2019. The last time we visited was 7 years ago, and my daughters loved it, so we decided to return. 
What I love most about this city is, it's an 'all in one city". If you're looking for history, architecture, city life, beautiful urban beaches, modern to rustic hotels, good food (lots of fresh  seafood), and great shopping, and to top the list for me—it's a walking city, then you must consider Barcelona on your next trip.
It is a city on the coast of northeastern Spain, and the capital of the community of Catalonia; with a population of 1.6 million. This makes it the sixth most populous urban area in the European Union after Paris, London, Madrid, the Ruhr area in Germany and Milan. 
The languages spoken are Spanish and Catalan, of which the latter is spoken more predominantly. If you've been following me on social media for a while, you probably have gathered that I love to walk outdoors. I research places to walk when planning most vacations. The pictures below show you my favorite place in Barcelona. It's called La Barceloneta—the beautiful area that stretches for miles and miles starting from the world famous W hotel. 
In picture below, you can see the sunrise sparkling, right on top of the sail-shaped W hotel in the distance. All along this walking path, you'll see the gorgeous beach, rows of palm trees,  seafood and paella restaurants, street performers, shops, hotels and more!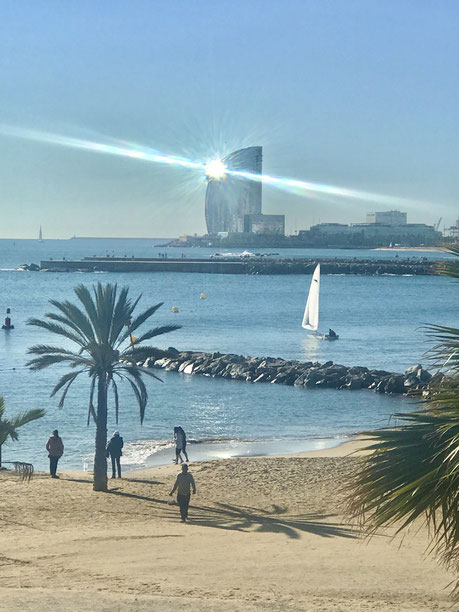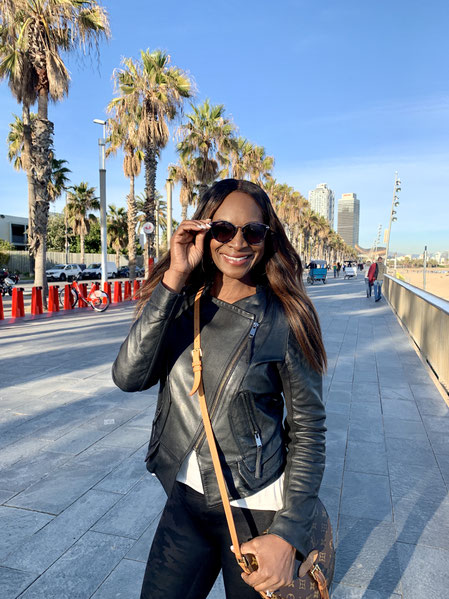 Hotel
There's an endless variety of hotels to fit every budget in Barcelona. On this visit, we stayed at the Serras Hotel. A modem, chic yet rustic hotel in the city center with views from the rooftop overlooking Marina Port Vell. Second picture below was taken on the rooftop of the Serras Hotel. The service at the hotel was impeccable, rooms were clean, beds comfy, well air conditioned and the breakfast was delightful!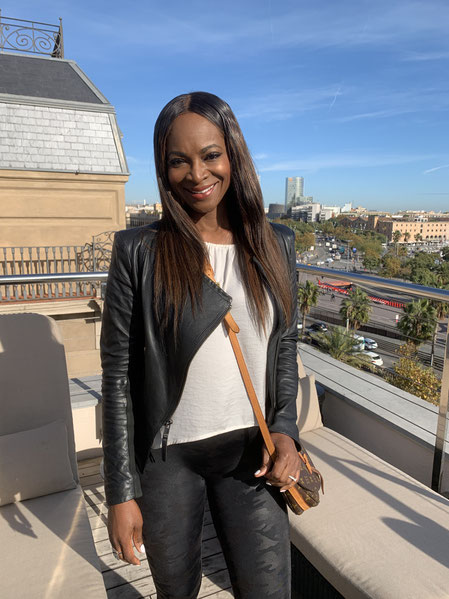 ---
Food
And what's a good holiday without yummy food. Barcelona is synonymous with paella. Everywhere you turn, there's a restaurant serving paella-seafood, chicken, mixed types and even noodle/vermicelli paella. 
Seafood of every variety can be found in many restaurants too. You can turn to the trusted Trip Advisor for recommendations that will suit your needs! We tried a handful of paella in different restaurants and there were only slight differences in taste and value for money. 
Tapas are also a common cuisine choice in Barcelona. You can find options for these on Trip Advisor too. And.....why do I have a picture of Chinese cuisine on a Barcelona travel blog? Well, because, my younger, 15 year old daughter, for some reason, has to have Peking duck at every holiday destination! So, there you go....yummy Peking duck at restaurant Shanghai Stories .
Iguazu is a hidden gem, just off the Main Street of La Barcelonata. We found it the first time we visited the city, and went the second time we visited....and found it again this time!
They sell yummy sandwiches and paninis, for those casual buy and go kind of days. We did start to crave pizza after we were 'paellaed and tapad' out!! You can get sick of paella and tapas after a while. 
And this pizza was soooo good. If you are craving a really good pizza, you must try Donkilo!  
It was my daughter's 22nd birthday and they were kind enough to make her a heart shaped pizza!️
---
Sightseeing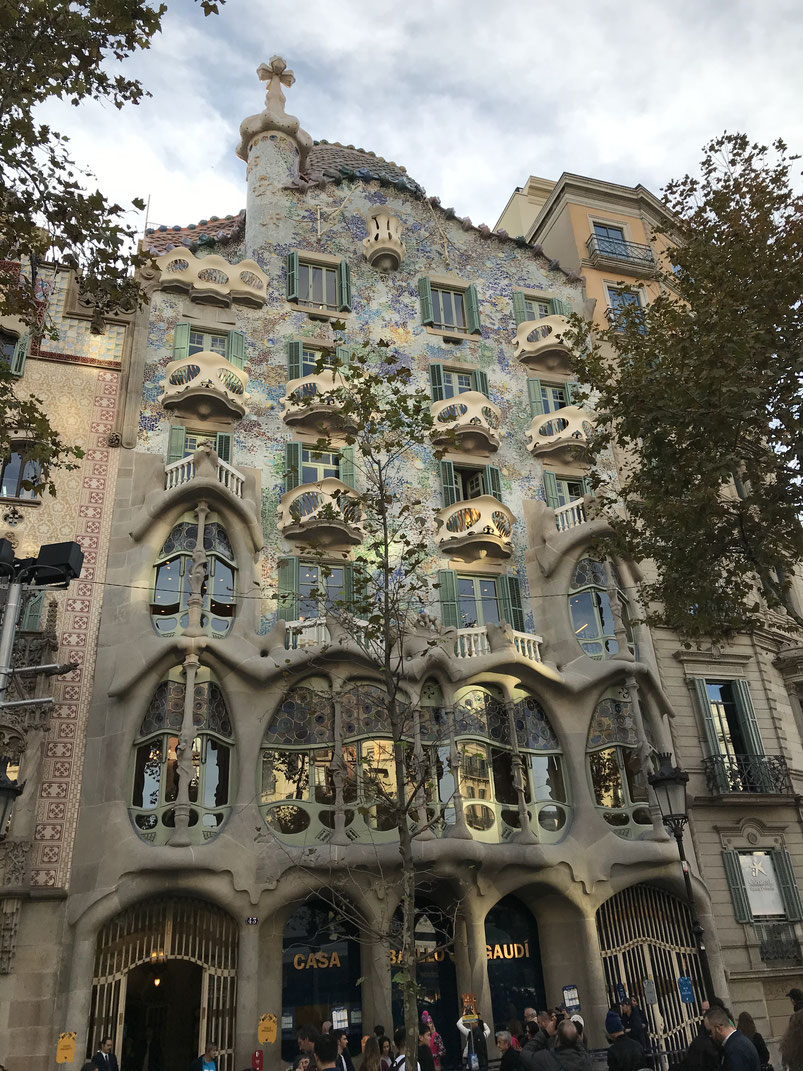 Now, you've eaten, you've walked the beautiful La Barcelonata.....how about time for some sightseeing?
Let's start with viewing and visiting the magnificent Gaudí houses all around the city.
Antonio Gaudí  was a famous Catalan architect and designer whose buildings have become a marvel to watch in Barcelona. 
These are a few of his buildings on here. You can google where to find them, and be sure to tour inside a few of them.
A must see is the enchanting and beautiful cathedral, La Sagrada Família (means 'Holy Family') another of architect Gaudi's works. 
I don't know which one is more beautiful-the exterior or interior. They are both stunning! Don't miss it!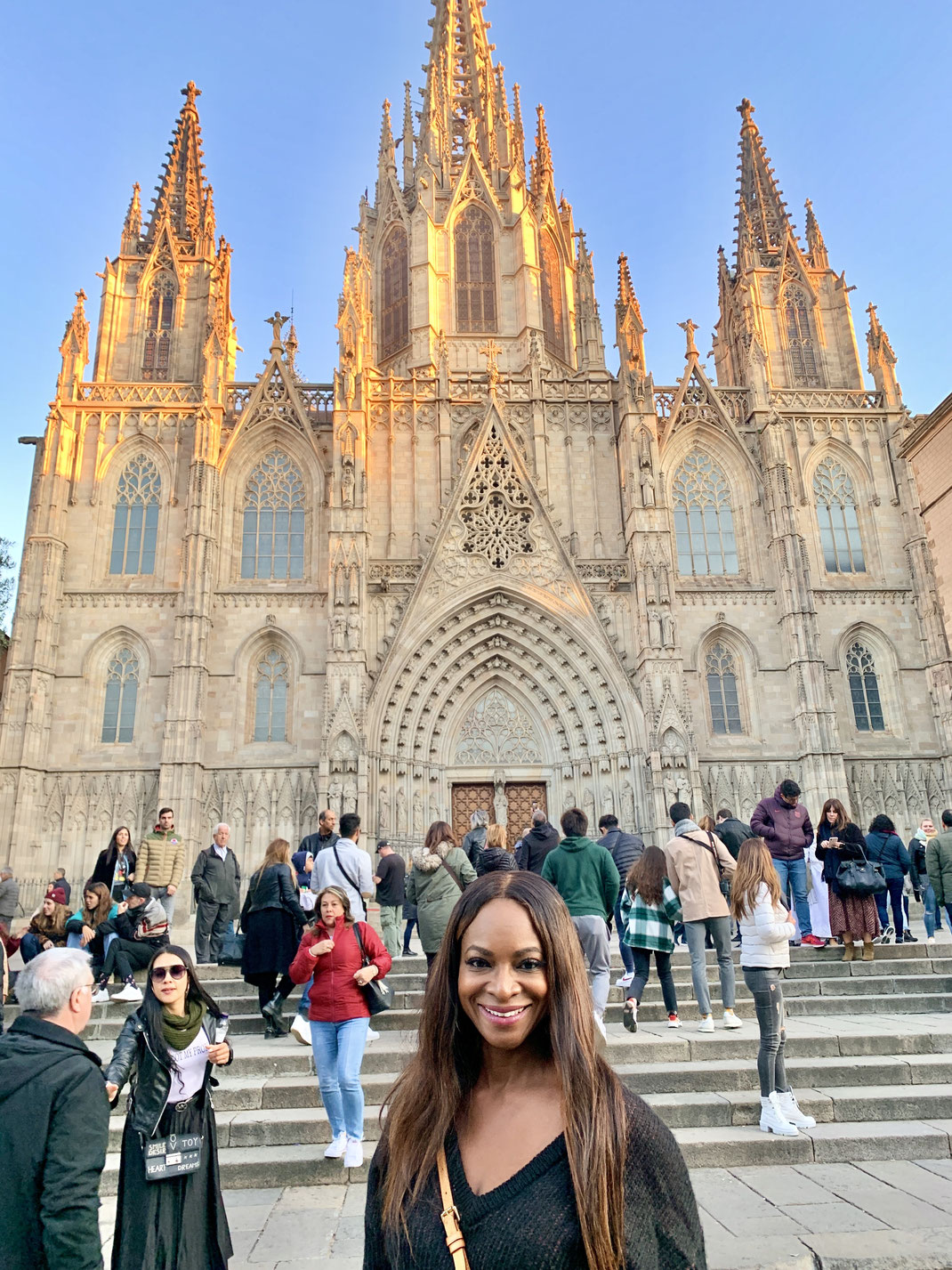 Another magnificent sight-the Barcelona cathedral located in the Gothic quarter- just breathtaking!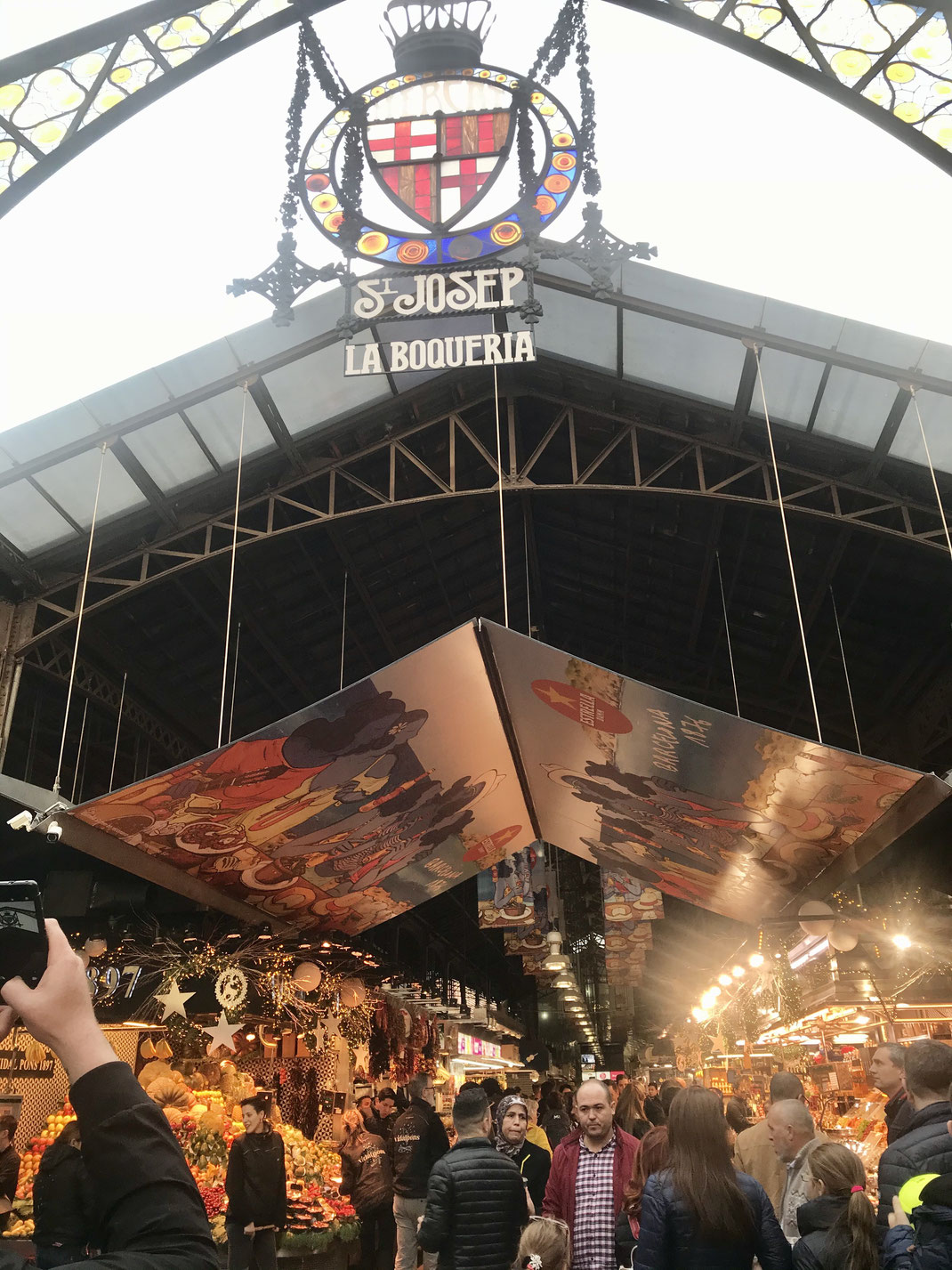 Take time to visit the famous, stunning, and colorful produce market La boqueria Barcelona  at the end of the popular street of Las Ramblas. 
Along Las Ramblas, you'll find many outdoor stalls and kiosks selling a wide variety of merchandise, street performers, cafes and restaurants. It's often very crowded, so watch for pick pockets. At the end of the street, you'll walk into the shopping area which starts from Plaça de Catalunya into the posh shopping street of Passeig De Gràcia. 
---
Another must see—Park Güell. Spend a few hours at this beautiful house viewing more of Gaudi's architectural creations, or just taking in panoramic views of the city from the park perched on a hill. 
Other attractions are Parc de Montjüic, where you can ride cable cars across town, view the Montjüic castle, and walk the pretty and lush gardens. Other attractions are the Picasso museum.
So, there's highlights of what your trip to Barcelona could look like. 
Hope you were inspired. 
Remember to plan travels into your 2020 itinerary!
Travel more! Read more! Laugh more! 
Wishing you permanent happiness this Xmas and in the new year and new decade of 2020!!
Dr. Iyabo